Magic Slim Body is constructed out of a Bamboo Charcoal yarn that provides numerous benefits to your health while dissolving body odor, and bacteria. Humidity adjusts to external conditions automatically. The Bamboo Charcoal yarn provides strong absorption of body sweat helping to remove toxins from the body while looking slim! Bamboo material contains an abundance of mineral trace elements to revitalize your body while looking slimmer. The Magic Slim Body Shaper is a comfortable solution that hides bulges while sculpting the waist and flattening the tummy. A new Feel Foxy favorite - we just had to buy one for ourselves. Wear with your favorite bra and pair it with a padded panty for a total body makeover!
Hand Wash, Lay flat to dry. 60% Nylon, 35% Bamboo, 5% Spandex.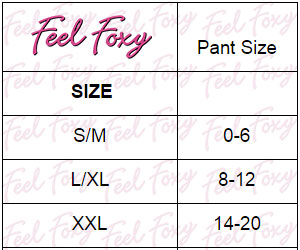 Reviews
It is amazing. It tames my tummy and supports my back.

Nice but the size 2x is to big on the waist and to tight on the top. I got the 2x because you didn't have xl.

It's great

I am satisfied with my purchase

Should maybe go down a size. No negatives.

I have enjoyed wearing it I haven't tried the pants yet

Nice Body Shaper....Supports my boobs sucks in my tummy, does not ride up..came back to order another one.

This product feels so good on and does EXACTLY what it's supposed to do!! Love it!