Posted by Alma Guerrero on 22nd Apr 2014
Bright colors! Fabulous wigs! Elaborate ensembles!
All part of the look we have gotten used to seeing on Nicki Minaj but as of lately we see her shedding her Harajuku doll like image for a demure, "less is more" style.
At the MTV Movie Awards we saw Miss Minaj rocking a gorgeous form-fitting Alexander McQueen gown that emphasizes her curves.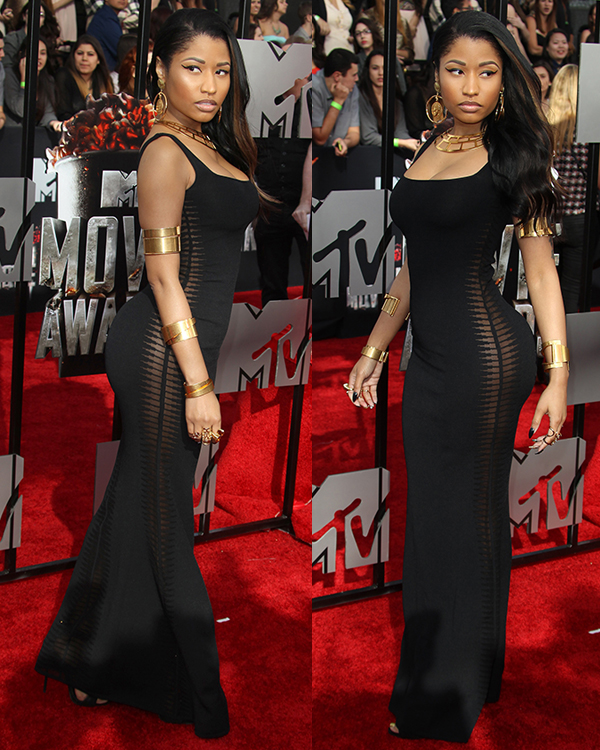 Get the look
Unfortunately not all of us were born with Nicki's natural curves... So what's a girl to do? There's plastic surgery if you're ok with pricey, painful and prolonged, but who says dangerous curves need to be dangerous to achieve? For a scalpel free solution I suggest shapewear. A waist cincher here a padded panty there "bipiddy boppidy...put them together and what do you have? A curvy girl ready for the ball or umm the club!
Suggested products:
1."The Nicki" Low Rider Panty $28.00
"The Nicki" Low Rider Panty features a pre-shaped 1/2 inch padding. Available in black, nude, pink and blue. It is designed to keep its shape. Just slip it on and you are ready to go. No need for additional inserts etc. Pre shaped, natural looking padded panty is contoured & formed to resemble a realistic round bottom. There are four stylish colors to choose from. Comfortable material 90% Polyester, 10% Spandex.
2."The Coco" Hip and Butt $48.00
"The Coco" Hip and Butt Panty gives you a padding on both hips and butt. This panty has 2 inch pads on the butt and 1 inch pads for the hips. It increases both the rear end and hips to achieve a more curvaceous feminine appearance. This padded panty style is high quality and it shows! Can you say VAVA VOOM? The panty is constructed of lycra/spandex for support and comfort.
3. Classic Corset with Zipper $85.00
The Classic Corset with Zipper is perfect for creating that hourglass figure! This corset compresses bulges on your abdomen, slims your waist and back; and has rods for maintaining posture. With its double hook-and-eye closure with zip front, you can feel the real compression. The outer layer is comprised of a cotton/spandex lining, the strong internal layer is comprised of latex(100% Latex Rubber), and the last layer is a soft cotton/spandex that lays against your skin for comfort.