Posted by Alma Guerrero on 7th Jul 2014
The new waist cinchers have arrived at Feel Foxy and they are wild!
These two new bold releases from Ann Chery Fajas are flying off the shelves!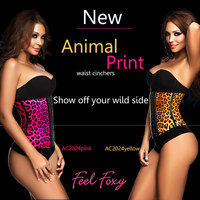 The Latex Waist Cincher Animal Print is a high-compression latex band lined with ultra-soft cotton, so it is comfortable on your skin while still offering the strength and quality of latex.These cinchers feature built-in non-memory FlexiBoning supports, that will always keep your natural contours and allow you to feel more confident and walk sexier knowing that bad posture won't be sabotaging your perfect silhouette. The Latex Waist Cincher Animal Print slims the waist instantly by up to 3 sizes and Ann Chery shapewear users have reported that prolonged habitual use of this high compression body shaper aids inpermanent waistline reduction, slimming up to 4 dress sizes in as little as 4 to 6 weeks. These fashion inspired cinchers work by utilizing perfectly applied compression and providing resistance to ramp up your thermal activity, maximizing the work your muscles do for you to promote weight loss. Simply wear the garment discreetly underneath your outfit for 8 hours a day habitually for a month, and see a reduction in your waistline. Furthermore, the shaper's dual column eye-hook design ensures you'll maintain a snug fit while you slim down. Never again have to choose between instant results and a lasting figure! Wearing a smaller size can cause discomfort, damage your garment, and just will not fit. This product is ideal for slimming the figure as they mold to a perfect fit and reduce your size through the effect of sweating, burning fat located in different areas like abdomen and back. This new product is available in pink and yellow.
Latex Waist Cincher Animal Print Pink
Latex Waist Cincher Animal Print Yellow