Posted by Alma Guerrero on 31st Oct 2014
The idea of Corsets is not a new one, it has simply made a comeback like most things do in the cycle of fashion. In a Yahoo article, "Corsets Are Making a Comeback: What You Need to Know" the process of waist training is mentioned. This trend is being made popular again by celebrities like Kim and Khole Kardashian and Jessica Alba who have credited their tiny waist to corsets and cinchers.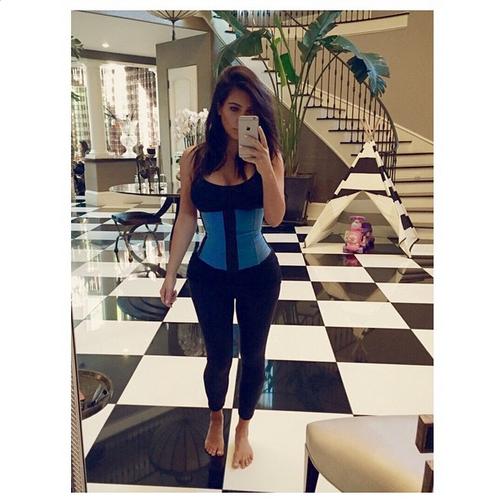 Get Kim's look with the Feel Foxy Sports Girdle for only $56.00!
However when hearing about this trend not everyone knows what it is or how it works.
Simply put, waist training is the gradual process of using a waist cincher, trainer, or corset to reduce ones waist.
How do I waist train?
Waist training can seem a bit overwhelming to anyone who isn't informed. Some questions may start to form in your head at the mere thought of it. Will I be able to breath? Will it hurt? Rest assured, I have answers!
Yes, you will be able to breath! Sizing is important when getting a waist cincher. At Feel Foxy we recommend that you always measure your waist for an accurate fit before ordering. It is also very important to start off gradually, don't try to live in your cincher the first week you get it. I would say its smart to start off wearing your cincher only a few hours at first and slowly increasing an hour or two every day as you are comfortable. This is not only a good thing for your comfort but its also good for the breaking in of your new cincher.
No, it wont hurt! Waist cinchers and corsets are not torture devices! Again, sizing is important. Make sure when you purchase you cincher you get one that is the size that you currently are and not the size you want to get to! We carry great waist cinchers like the Ann Chery Clasica Latex Waist Cincher that have rows of adjustable hooks so you can gradually size down as you get closer to your goal.
Will I see results?
Waist cinchers are great for instant gratification! Wearing a cincher alone will automatically reduce you wait 2-3 inches, possibly more depending on your figure. However for permanent results it will take a little longer and depends on the individual. We recommend for the best results from your waist training it is important to remember the other components. A healthy diet and regular exercise goes a long way!
Maximize your workouts with a cincher designed for working out. The Sports Girdle is a great option, this Workout Band is an Ann Chery waist cincher that you wear anytime you're going to be active. Take it to the gym or for a run outside and let it add impact to your healthy lifestyle routine. Here's how it works. You wrap the band around your midsection. This action creates compression in your core, stimulating thermal activity and ramping up perspiration. This process allows toxins and impurities to exit the skin, while mobilizing fat cells. Put simply, the band helps ensure that your workout is working for you.
Maintenance:
It is important to take proper care of your cincher so that it will work its best for you! Always hand wash and air dry your cinchers and corsets. DO NOT put it in the dryer! Make sure you air dry your cincher at the end of every day even if you haven't washed it that day to make sure any perspiration has dried out. It is a good idea to own more than one cincher or corset so that you can alternate in between them and they get a rest in between wears.
Suggested Cinchers and Corsets: