Posted by Alma Guerrero on 8th Mar 2016

---
For those of you that are familiar with waist cinchers/waist trainers you are probably familiar with the occasional struggle that getting all your hooks latched can be. Sometimes its perfectly easy and you can get your cincher on in no time but then there are the times when there seems to be that one rebel hook that just wont cooperate! (Don't get me started on closing a waist cincher with fake nails!)
While waist cincher with rows of hooks are great and they do have their amazing benefits sometimes you might just want something a bit easier to get in and out of that is still going to slim your waist, flatten your tummy and give you that oh so coveted hourglass figure.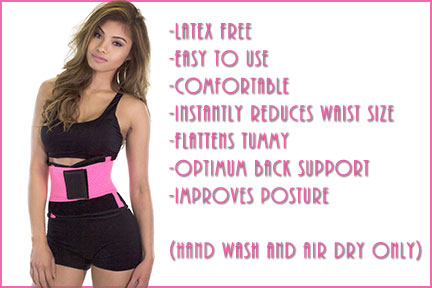 The It's a Cinch! Waist Reducer is a gal's new best friend! It is made out of a very comfortable Polyester/ Nylon blend making the perfect item for anyone with a latex allergy as it has no latex. This item is so easy to use and comfortable enough for all day wear so you can wear it while you do your daily activities and while working out.
The It's a Cinch! Waist Reducer instantly reduces your waist and flattens the tummy area. The best this about it is that it is adjustable. You can make this item as tight as you need it! That also means that as your waist shrinks with time, diet, and exercise the cincher will still fit you.
Another great thing about this product is that it is great for the gym or any fitness activity. Not only is it made in fun bright colors that are perfect for showing off but it also provides optimum back support and even helps you to improve posture.
---
---
Need a cute new gym outfit to go with your It's a Cinch! Waist Reducer?
Shop our Activewear category and get the most from your workout!
---